Carnegie Crawl begins May 13! read more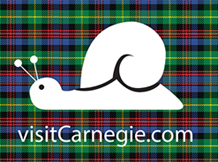 Stop at any business with "Carl" the Snail in the window to pick up a map and the Post Gazette insert listing the specials. The map will have all the participating businesses along with any special music events.
Carnegie Boys & Girls Club News & Events
Visit Carnegie click here

ANDREW CARNEGIE FREE LIBRARY & MUSIC HALL
COMMUNITY EVENTS
Memorial Day Parade
The Sunday before Memorial Day on Main Street.
Independence Day Celebration
Held in Carnegie Park. Date varies.
Annual Children's Halloween Promenade
Saturday before Halloween on East Main Street Bridge.
Santa Comes to Town
Saturday following Thanksgiving at the Andrew Carnegie Free Library.
Light Up Night
Friday following Thanksgiving in Downtown Carnegie.