Carnegie Crawl begins May 13! read more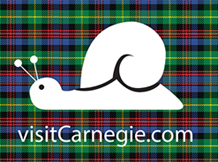 Stop at any business with "Carl" the Snail in the window to pick up a map and the Post Gazette insert listing the specials. The map will have all the participating businesses along with any special music events.
Click Here for Carnegie Happenings

Walk About Wednesday Deals! read more
Get out from behind your desk at lunch
and enjoy what Carnegie has to offer!
COMMUNITY EVENTS
Carnegie Boys & Girls Club News & Events
VOLUNTEERS NEEDED - Carnegie Clean Up & Street Planter Planting Day - This Saturday, May 21.

Everyone is welcome to come out to help beautify our Business District. We will begin planting at 9 a.m. in the parking lot across from Carnegie Coffee. Everyone is welcome. Dress for the weather. Bring your gloves & trowels & let's get some flowers into the pots!
Volunteer hours are available for those who need them for school or scouts. Just be sure to find or contact Bridget VanDorn to arrange for signatures if needed.
Hope to see you there! Please feel free to pass this info. along to anyone who might like to help.
- Carnegie Shade Tree Commission
Memorial Day Parade
The Sunday before Memorial Day on Main Street.
Independence Day Celebration
Held in Carnegie Park. Date varies.
Annual Children's Halloween Promenade
Saturday before Halloween on East Main Street Bridge.
Santa Comes to Town
Saturday following Thanksgiving at the Andrew Carnegie Free Library.
Light Up Night
Friday following Thanksgiving in Downtown Carnegie.