Pennsylvania Resources Council PRC
Collection Regulations and Information
Since 2003, PRC has held Hard to Recycle collections in Southwestern PA with the goal of providing responsible and convenient recycling for items not able to be recycled at the curb. At these events individuals have been able to recycle such item as e-waste, cell phones, polystyrene, compact fluorescent bulbs, alkaline batteries, Freon-containing appliances, tires and more.
Over the past twelve years, 20,000 plus residents have participated in PRC's collection events recycling 1,690,000 pounds of electronics, 8,800 plus tires, 2,400 Freon containing appliances and much more.
PRC partners with local companies to ensure responsible and proper disposal of all materials collected at their events. Their electronic recycler eLoop LLC is a local company based in Plum Borough, and a Basel Action Network e-steward. As a certified e-steward, eLoop adheres to the highest industry standard for recycling responsibility which ensures no disposal in landfills or incinerators, no prison labor, nor any export of toxics to poor communities. PRC's other Hard to Recycle partners include the Allegheny County Health Department, NOVA Chemicals, and Appliance Warehouse.
HARD TO RECYCLE COLLECTIONS
*** With Recent DEP Policy Changes, PRC Is Now Able To Accept Televisions At All HARD-TO-RECYCLE COLLECTION EVENTS for a $30 Fee ***
2019 Events
All events run from 9am to 1pm
May 11, 2019
Galleria at Pittsburgh Mills, Tarentum
June 29, 2019
Quaker Valley High School, Leetsdale
July 27, 2019
La Roche College, McCandless Township
August 3, 2019
West Mifflin High School, West Mifflin Borough
October 5, 2019
Settlers Cabin Park Wave Pool, Robinson Township
For questions or to find recycling resources convenient for you email Rosh Hirschfeld at PRC.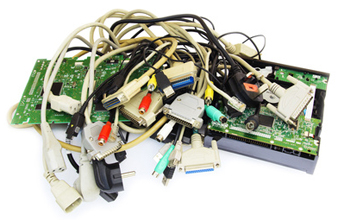 Acceptable Materials & Associated Fees
General Donations Accepted at all events
MATERIALS COLLECTED FOR FREE:
CPU (towers) / Laptops / Mice / Keyboards / Home phones / Cell Phones /Tablets /ewaste PDAs / UPS/Servers / Router / Modems / Web and Digital Cameras / DVD Players / VCRs Paper Shredders / Clock Radios / Stereos Microwaves / Printers / Copiers/ Fax Machines / Scanners Zip Drive/ Electronic Cables / Video Game Consoles / Expanded Polystyrene Packaging Material/ (CFL) Compact Fluorescent Light Bulbs
MATERIALS COLLECTED FOR A FEE:
Small Kitchen Appliances (toasters, blenders, etc), Hair Dryers, & Curling Irons $5 each
All Computer Monitors (flat screen & CRT) – $20 each
Televisions – $30 each
Console or Projection TVs – $40 each
Printers $5 each
Alkaline Batteries $1.50 per pound
Small Freon Containing Appliances (window ac units, dehumidifiers) $10 each
CDs, DVDs, VHS TAPES & FLOPPY DISKS $1 per pound
Tires (car/truck) $3.50 without rims $10 with rims
Hard Drive Data Destruction Verification - 1 Drive $11.50 each
Hard Drive Data Destruction Verification -each additional drive after 1st $3 each
Lighting
Fluorescent Tubes $2 per 4ft $3.50 per 8ft U"
Circle Lamps $2.75 each
Neon Lighting $9 per lb
Incandescent $0.75 each
Halogens $1 each
Projector Lamps $12 each