Collection Regulations and Information
REGULAR CURBSIDE COLLECTION
Garbage and refuse will be collected once every week. Garbage and refuse should be placed at the curb after 6:00 p.m. on the prior day and before 6:00 a.m. on the scheduled collection day. Garbage pickup will be on Wednesday unless notified otherwise.
HOLIDAY SERVICE
There is no trash collection on the following six holidays: New Year's Day, Memorial Day, Fourth of July/Independence Day, Labor Day, Thanksgiving Day and Christmas Day. Collection of garbage will be delayed one (1) day if an above-referenced holiday occurs on any Monday through Friday of a holiday week. If the holiday falls on the weekend, service will remain on a normal schedule and will not be delayed at all.
GUIDELINES FOR COLLECTION:
Garbage should be in properly secured containers or plastic bags.
Grass clippings and weeds should be in plastic bags.
All furniture items (1 item per week), appliances (Click Here for guidelines for appliances containing refrigerant), household goods and disassembled children's swing sets will be accepted at curb side.
Carpet should be rolled and tied in lengths not to exceed 48 inches.
Empty paint cans and/or dried paint is acceptable. Paint can be dried by air drying or soaking up with newspaper or kitty litter. The lids should be left off.
EXCLUDED ITEMS:
Building materials: These may be picked up for a fee by calling Republic Services at 412-429-2600.
Did you know you could make a tax deductible donation of usable building materials? The non-profit organization "Construction Junction" can be reached at (412) 243-5025 for more information or see their website at www.constructionjunction.org.
Hazardous Household Waste, including liquid paint, thinners, cleaners, pesticides/herbicides, etc. CLICK HERE for upcoming Allegheny County collection events for household chemicals listed below.
Five Hard to Recycle Collections will be scheduled. CLICK HERE for dates, times and locations.
Safely Dispose of Common Household Chemicals
Click Here for dates and details
-- or --
Pennsylvania Resources Council, Inc.
Click Here for more information.
Automobile parts including wheel rims and tires.
Trees, branches and bushes. Click Here for leaf and yard trimming collection guidelines.
Ashes from furnaces and fireplaces.
Stones and dirt.
Leaves.
Electronics, such as televisions, stereos, microwave ovens, desktop and laptop computers, including monitors and computer peripherals. CLICK HERE for upcoming Allegheny County collection events for electronics.
RECYCLING INK & TONER CARTRIDGES:
In an effort to recycle and reuse ink and toner cartridges, some companies pay money for empty cartridges.
ATM Laser recycles and refurbishes
ink and toner cartridges.
ATM Laser
4118 Campbell's Run Road
Pittsburgh, PA 15205
412.279.7977
Click Here for more information.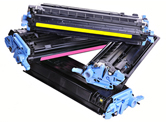 ** EFFECTIVE FEBRUARY 1, 2016 - Best Buy will no longer be accepting TVs/monitors in their stores. **