UPCOMING EVENTS . . .
---
Carlynton Band with Kona Ice Truck
Carnegie Farmers Market
Sundays - September 15 and 22
---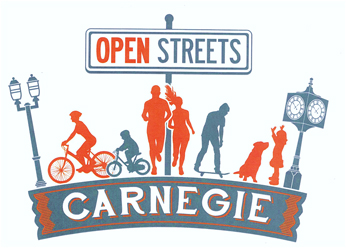 Click Here for Map and Details
SEPTEMBER 14, 2019 (Saturday)
Open Streets Carnegie
9:00 am - 1:00 pm
East and West Main Streets will be closed so people can enjoy biking, skateboarding, walking etc.
Plenty of free, fun activities for the entire family!
climbing wall
bike safety course with free helmets
skateboarding demonstrations
extreme pogo sticking with XPogo
Top Golf
activities and sports challenges
free therapeutic massage and cupping
healthscreenings and PT assessments
yoga, dance, and fitness classes
firemans' obstacle course
demonstrations by Pittsburgh Sword Fighters
children's games
an awesome scavenger hunt
and much more . . .
---
SUNDAYS in the SUMMER
EXTENDED DATES
Now until September 29
EAST MAIN PARKING LOT ~ Noon - 3:00pm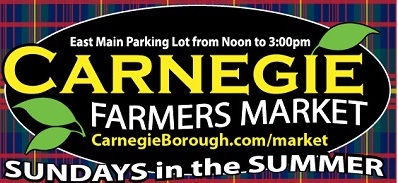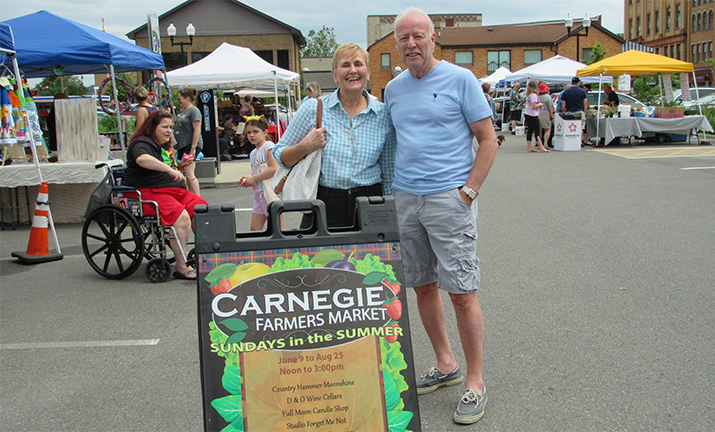 September 15
Carlynton Band with Kona Ice Truck
Primrose Farm
Jose Quiroz Farm - accepts senior & WIC coupons
Oak Hill Farm - accepts senior coupons
Zuback Farm
Biber Family Farm
Country Hammer Moonshine
D&O Wine Cellars
Hey Tabouli!
Dolcezza Dagny
Mediterra Bread
Olive & Marlowe
The Paddy Wagon Specialty Baked Goods
Breaking Eggs
Pink Zebra Wax Melt Sprinkle Bar
Hello Fresh - Green Chef
Divine Scentsations Inc
Origami PGH
Merlin's Safe Haven Cat Rescue
Returning September 22
Studio Forget-Me-Not & Sandpiper Soap
Full Moon Candle Shop
A wide variety of produce will be available including: lettuce, corn, beets, potatoes, tomatoes, beans, garlic, apples, peaches, onions, bell peppers, squash, zucchini, salsa, dill, mint, and more!
Meat - chicken, turkey, duck, beef, pork, lamb!
Eggs - chicken, duck & quail
Plus, honey, jam, baked goods, pastries, Lebanese food, soy candles, incense, soap, tea, botanicals
and much more!
Click Here for flyer
Click Here for visitor & vendor information
---