RECENT NEWS . . .
| | |
| --- | --- |
| | |
---
Carnegie

Connections

municipal newsletter

Spring-Summer 2019

Volume 1 Issue 1

PA State Association of Boroughs 2019 Communication Contest 3rd Place Winner
---
CONSTRUCTION ALERT
I-376 Parkway West Improvement Project Begins Monday Night in Allegheny County
Pittsburgh, PA – PennDOT District 11 is announcing the I-376 (Parkway West) Improvement Project in Robinson and Collier townships, Allegheny County, will begin Monday night, July 29 weather permitting. click here to continue
---
IMPORTANT TAX
INFORMATION
JORDAN TAX SERVICE
will be at the Carnegie Borough Building located at One Veterans Way to collect property and school taxes on the following dates:
Friday, August 16 ~ 1:30-4:30pm
Friday, August 30 ~ 9:00am-12:00pm
---
Carnegie Elementary School Crossing Guard
Qualified persons must be available during Carlynton school hours and provide their own vehicle. Questions? Call Patricia Reaghard, Carnegie Police Secretary at 412-279-4245.
Click here for job details. Click here for application or apply in person at the Carnegie Police Department, One Veterans Way, Carnegie.
---
"No Plastic Please"
Humane Action Pittsburgh
Find out how you can become a "no plastic please" Ambassador and eliminate single use plastic at the Individual and Business levels, in Pittsburgh and throughout PA.
click here for more information.
---
A new special collection opportunity is now available to Carnegie residents!
Republic Services, your local recycling and waste service provider, now includes e-waste collection! click here for details
---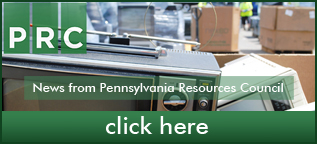 ---


Borough of Carnegie to utilize CodeRED Emergency Notification system The Borough of Carnegie has contracted with OnSolve to license its CodeRED high-speed notification solution. The CodeRED system provides the Borough of Carnegie and Pennsbury Village officials the ability to quickly deliver messages to targeted areas or the entire municipality.
click here to continue reading
click here to Sign Up
---
Independence Day
Celebration
Fireworks Video click here
---
Dogapalooza
image gallery click here
---
Carnegie Memorial Day Parade
image gallery click here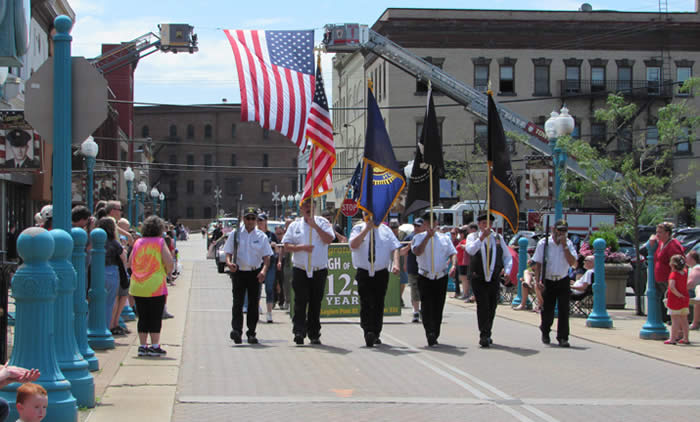 ---
12th ANNUAL QUANTUM SPIRITS CARNEGIE VOLUNTEER FIRE DEPARTMENT 5k RUN/WALK
PICTURE GALLERY click here
THANK YOU TO ALL PARTICIPANTS,
VOLUNTEERS & SPONSORS
UPCOMING EVENTS . . .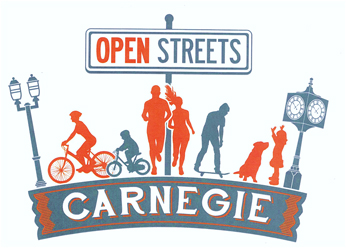 SEPTEMBER 14, 2019 (Saturday)
Open Streets Carnegie
9:00 am - 1:00 pm
---
FARMERS MARKET WILL BE OPEN
Sundays until September 29
(Excluding September 1)
---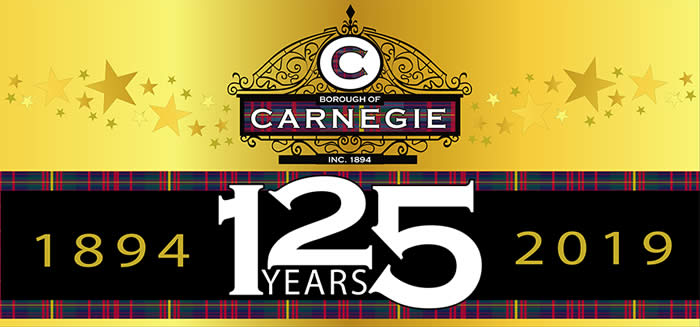 HAPPY 125th BIRTHDAY
CARNEGIE BOROUGH
The Quasiquicentennial Celebration
---
Celebration Image Gallery click here
Car Cruise Image Gallery click here
Farmers Market Image Gallery click here
---
---
EXTENDED DATES
Now until September 29
(excluding September 1)
EAST MAIN PARKING LOT ~ Noon - 3:00pm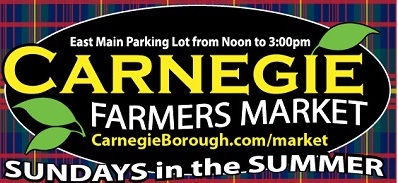 A wide variety of produce will be available including: cherries, lettuce, corn, beets, potatoes, tomatoes, beans, garlic, apples, peaches, onions, bell peppers, squash, zucchini, dill, mint, walnuts, and more!
Meat - chicken, turkey, duck, beef, pork, lamb!
Eggs - chicken, duck & quail
Plus, honey, jam, pastries, Lebanese food, soy candles, incense,soap, tea, botanicals
and much more!
Click Here for flyer
Click Here for visitor & vendor information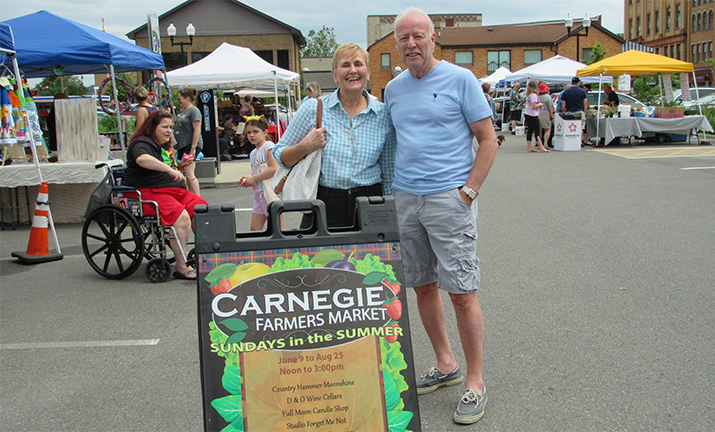 August 18
Primrose Farm
Jose Quiroz Farm - accepts senior & WIC coupons
Zuback Farm
Heritage Craft Butchers
Biber Family Farm
Country Hammer Moonshine
D&O Wine Cellars
Hey Tabouli!
Dolcezza Dagny
Mediterra Bread
Olive & Marlowe
The Paddy Wagon Specialty Baked Goods
Breaking Eggs
Full Moon Candle Shop
Divine Scentsations Inc
(Debbie's Heavenly Scents & Moss Magick Botanicals)
Origami PGH
Pink Zebra Sprinkles
Hello Fresh - Green Chef
Returning August 25
Oak Hill Farm - accepts senior coupons
Pink Zebra Sprinkles
Returning in September
Merlin's Safe Haven Cat Rescue
Studio Forget-Me-Not & Sandpiper Soap
---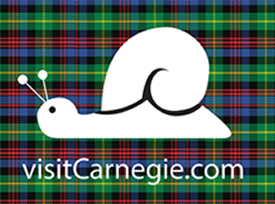 The Carnegie Crawl is now all year long!
SECOND FRIDAY EVERY MONTH
Arts * Entertainment
Shopping * Food * Fun!
5:00-9:00pm
---
REMINDER
The cutoff date for requesting reimbursement is FRIDAY - AUGUST 16, 2019.
If you are unable to bring your paperwork by 4:00pm you may use the drop-off slot next to the borough building entrance.
June 14 Crawl Towing Update
from CCDC
GREAT NEWS!
Family Collar's landlord - the owner of the Family Dollar building has generously offered to reimburse anyone who was towed the evening of the June 14 Crawl for for the cost of towing. Carnegie Borough will be coordinating this reimbursement. If you were towed or know someone who was towed, send or bring a copy of your towing receipt to:
Carnegie Borough
Attention: Administration
1 Veterans Way
Carnegie, PA 15106
The cutoff date for requesting reimbursement is August 16, 2019. The Borough will then make a single request for the total value of the requests submitted by that date. We hope to facilitate reimbursement to everyone that was towed by August 30, 2019.
---
Scoops in Carnegie Ribbon Cutting
June 27, 2019

CARNEGIE is 125
On March 1, 1894 Carnegie was officially recognized as a borough by then-governor Robert Patterson and named after steel-magnate Andrew Carnegie. Carnegie endowed one of the first of many of his libraries here; the Andrew Carnegie Free Library and Music Hall.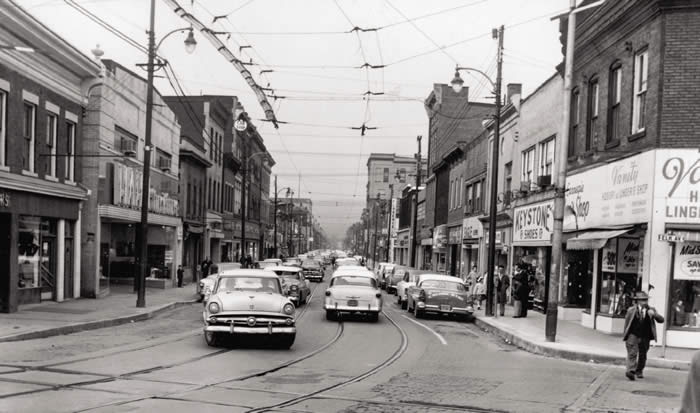 A MUST-SEE great video
showcasing Carnegie
---