UPCOMING EVENTS . . .
**Carnegie Borough Cooling Center**
1 Veterans way
In anticipation of the extreme heat that we are expecting over the next several days, Carnegie Borough will open its Municipal Building Council Chambers as a "cooling center' starting today, Friday, July 19th at noon through Monday, July 22nd. Questions please call 412-276-1414
---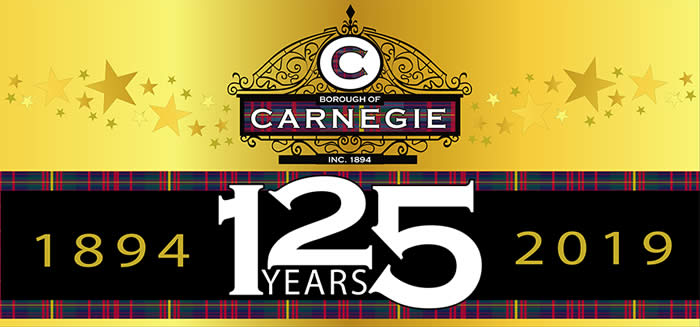 HAPPY 125th BIRTHDAY
CARNEGIE BOROUGH
The Quasiquicentennial Celebration
---
Friday August 9 ~ 5-9pm
Carnegie Crawl
---
Saturday August 10
Carnegie Elementary Student Displays
at the Andrew Carnegie Library ~ 10am-1pm
Shop Carnegie &
receive a Comemmorative 125th Wooden Nickel
10am-6pm
Proclamation Celebration
West Main Street 10am-2pm
Fun, Games, Free Hot Dogs, Raffles & Entertainment
Historical Society of Carnegie
Honus Wagner Museum
Boys & Girls Club of Carnegie
Studio Forget-Me-Not
Meet & Greet with Mayor Stacie Riley
Proclamations by the West Main Street Bridge ~ 11am
Carnegie Volunteer Fire Department Battle of the Barrels
with local fire departments
West Main Street at Jefferson Street ~ 12 Noon
---
Sunday August 11
Farmers Market ~ East Main Parking Lot ~ Noon - 3pm
Car Cruise ~ East Main Street ~ 1-5pm
---
---
IMPORTANT TAX INFORMATION
JORDAN TAX SERVICE
will be at the Carnegie Borough Building located at One Veterans Way to collect property and school taxes on the following dates:
Friday, August 16 ~ 1:30-4:30pm
Friday, August 30 ~ 9:00am-12:00pm
---
SUNDAYS in the SUMMER
EAST MAIN PARKING LOT ~ Noon - 3:00pm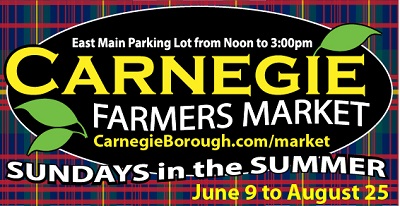 A wide variety of produce will be available including: cherries, strawberries, lettuce, kale, Swiss chard, beets, potatoes, snap peas, tomatoes, corn, turnips, garlicscapes, apples, peaches, onions, garlic, squash, zucchini, dill, mint, walnuts!
Meat - chicken, turkey, duck, beef, pork, lamb!
Eggs - chicken, duck & quail
Plus, honey, jam, pastries, Lebanese food, soy candles, incense,soap, tea, botanicals
and much more!
Click Here for flyer
Click Here for visitor & vendor information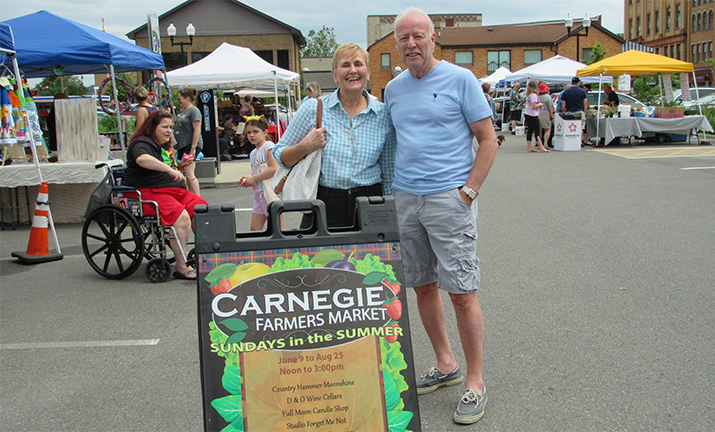 July 21
Primrose Farm
Jose Quiroz Farm - accepts senior & WIC coupons
Zuback Farm
Heritage Craft Butchers
Kevin Biber Farm
Country Hammer Moonshine
D&O Wine Cellars
Hey Tabouli!
Dolcezza Dagny
Mediterra Bread
Olive & Marlowe
The Paddy Wagon Specialty Baked Goods
Full Moon Candle Shop
Divine Scentsations Inc
(Debbie's Heavenly Scents & Moss Magick Botanicals)
Origami PGH
Pink Zebra Sprinkles
Hello Fresh - Green Chef
Returning on July 28
Oak Hill Farm - accepts senior coupons
Merlin's Safe Haven Cat Rescue Information Booth
Returning August 4
Studio Forget-Me-Not & Sandpiper Soap
---