---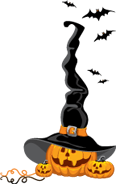 OCTOBER 26, 2019 (Saturday)
Annual Children's
Halloween Promenade
Registration begins at 12:00 Noon on
the East Main Street Bridge
Promenade begins at 12:30pm
Treat Bags, Surprises and Prizes for
five age groups (infants - 6th grade)
Trick or Treat
OCTOBER 31, 2019 (Thursday)
6:00-8:00pm
Have fun and stay safe!
---
Thank you to all of our 2019
Sunday Farmers Market Vendors & for making it a successful season!
---
Work the Room
NOVEMBER 4, 2019 (Monday)
10:00am-Noon
Carnegie Borough Building
https://goo.gl/maps/u2cfJxCugPowehfz8
This presentation will help to prepare career fair attendees to present themselves effectively to employers and make efficiant use of their time at the career fair.
Carnegie Career Fair
NOVEMBER 6, 2019 (Wednesday)
11:00am-2:00pm
Andrew Carnegie Free Library & Music Hall
https://goo.gl/maps/S3JzG4M27fcYc9bJA
We have invited over 30 local employers and training & rescource providers.
---