BOROUGH MEETING SCHEDULE
Borough Council Work Sessions

- First Monday of the month 6:00pm (Except legal holidays, meeting will be held on next business day.

Borough Council Regular Meeting - Second Monday of the month 7:00pm (work session 6:00pm)

Planning Commission Meeting

- Last Tuesday of the month 7:00pm

Other boards meet as needed

- Example: Zoning Hearing Board
---


Borough E-Mail Blast:
Connect with Carnegie for news, upcoming events & activities
Click here & send to receive information & updates via E-Mail Blast. Send any suggestions you may have for future blasts. To learn more about Carnegie's E-Mail Blast & related events, call the Carnegie Borough Building at 412) 276-1414.
---


CARLYNTON School District Calendar

CARLYNTON Extra-Curricular/Athletic Calendar
---

CARNEGIE BOYS & GIRLS CLUB
---
---
COMMUNITY
Carnegie Celebrates the Season
ANNUAL TREE LIGHTING
Santa, Honorary Mayor Blayke Mayfield, and Mayor Stacie Riley
Image Gallery - click here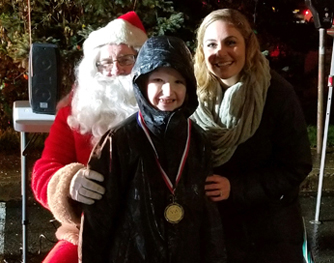 SANTA AT THE LIBRARY
Image Gallery - click here
---
BUSINESS
WINDOW DECORATING CONTEST STARTS THIS WEEKEND!! (Nov 17)
The business with the most signatures wins! This year the prize is a $25 gift certificate to a local restaurant or business. One person from your contest flyer will also be selected to win.
BBOC Holiday Business Mixer
Wednesday, December 5
click here for details
Free Parking for the Holiday Season

December 7 - December 24
Cookie Walk

December 8
Wassail Walk

December 14
Ugly Sweater Day with a Local Twist
Wear Your Ugly Hat, too!

December 21


Carnegie Crawl begins in May! read more


Walk About Wednesday Deals! read more
---

ANDREW CARNEGIE FREE LIBRARY & MUSIC HALL
---

OFF THE WALL PRODUCTIONS IN REPERTORY
---
---