---

FOR IMMEDIATE RELEASE
December 23, 2019
CHRISTMAS TREE RECYCLING PROGRAM again offered in ALLEGHENY COUNTY PARKS
Allegheny County is again offering its annual Christmas Tree Recycling Program this holiday season. County residents may drop off Christmas trees from Thursday, December 26, 2019 through Tuesday, January 14, 2020, at all nine regional parks from 8:00am until dusk.
All lights, decorations, tinsel, and stands must be removed from trees prior to drop-off. Trees will be mulched and used in the county parks. Drop-off locations are:
Boyce Park -

Soccer fields parking lot
Deer Lakes Park -

Veterans Shelter parking lot
Harrison Hills Park -

Parking lot at the intersection of Chipmunk Drive & Cottontail Drive
Hartwood Acres Park -

Mansion parking lot
North Park -

Swimming pool parking lot
Round Hill Park -

Alfalfa Shelter parking lot
Settlers Cabin Park -

Wave pool parking lot
South Park -

Wave pool parking lot
White Oak Park -

Chestnut Shelter parking lot
The list of drop-off locations is also available at www.alleghenycounty.us/parks/christmas-tree-recycling-program.aspx.
During the 2018-19 program, approximately 3,500 trees were received and recycled, with the resulting mulch used for various purposes throughout the park system's 12,000 acres.
---
click here for image gallery
Special Thanks to:
Mayor Stacie Riley
St. John's Lutheran Church
Get Go Carnegie
Scoops in Carnegie
Eat n Park
Carnegie Primitive Methodist Church
Higher Voices Choir
Caltronics National
Carnegie Volunteer Fire Dept
Carnegie Police Dept
Carnegie Dept of Public Works
Borough Administration
Borough Manager
Borough Council
and Santa!
---
HUGE THANKS!
to the numerous residents and businesses who were beyond generous and made this another great year for Toys for Tots!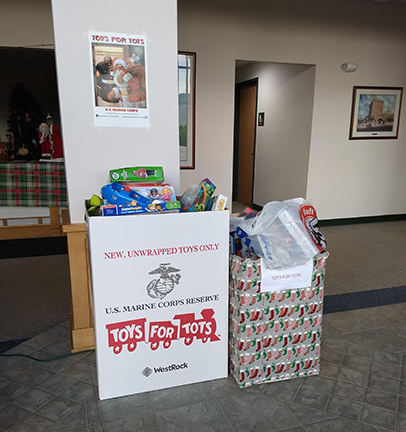 ---